Apache Quads

SX SilverSport 100cc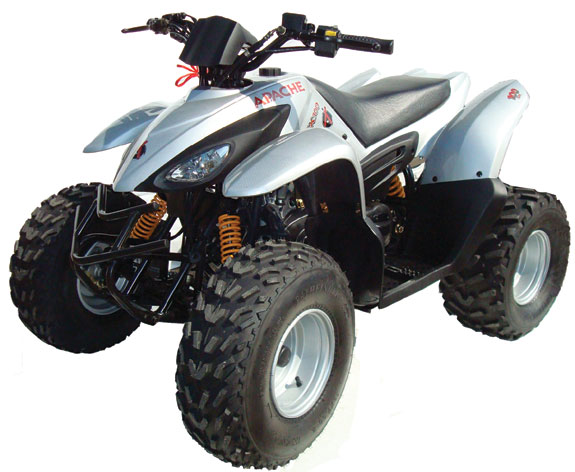 Apache SX SilverSport 100cc - Junior Quad.
OUT OF STOCK
Highly Specified SX 100 SilverSport with Reverse Gear
A highly specified premium model for junior riders who like a few extra luxuries. This high specification quad comes as standard with bright metallic silver paintwork, reverse gear, digital speedometer and fuel gauge. It is fully automatic and very easy to ride. Top brand product at a highly competitive price. CE Approved Product.
Specification:
Apache ATV SX SilverSport
100cc 2 Stroke Quad Bike
Automatic CVT Gears
Electric StartBrakes - Front Drum. Rear Disc
Seat Height: 620mm
Sports Exhaust
Wide Wheel Track
Lights: Front lights. Rear Brake Light
Suspension: Front Single Wishbone. Rear Single Damper
Safety: Fully Enclosed Footwells
Safety Cut Off Cord
Max Load: 80 Kgs
Overall Size: 1400x926x965mm
Warranty: 1 Year Parts (T&C's apply)
Colour: Metallic Silver Paintwork
Key Features: Premium version of the RLX 100. This has all the great features of the RLX 100 including Mud Monster Tyres & Front Nudge Bar, BUT ALSO: Reverse Gear, Speedometer, Fuel Gauge.
Apache Quads & Trailers
Latest News
Christmas Orders - We are now reserving quads for this Christmas - so if you wish to order please call us to reserve yours NOW. Stocks always run low at this time of year and we wouldn't want anyone to be disappointed. By booking early, you can also secure the colour of your choice (if applicable to the model you select).
Read More
General Stuff For You...
Special Offers - See our Special Offers and Clearance items now

Want to be an Apache Dealer? If you'd like to become an Apache Approved Dealer in the UK and you have what it takes to sell these superb products - email now to sales@apachequads.com for more information. There are limited opportunities still available.